All your revenue, sales and tax data in one dashboard
SPOT® is a dashboard providing financial control on eCommerce sales with a strong focus on real-time alerts on cross-border tax, customs, and compliance issues.
Free for 90 days, no credit card required, after the trial period only 8,90 EUR per month.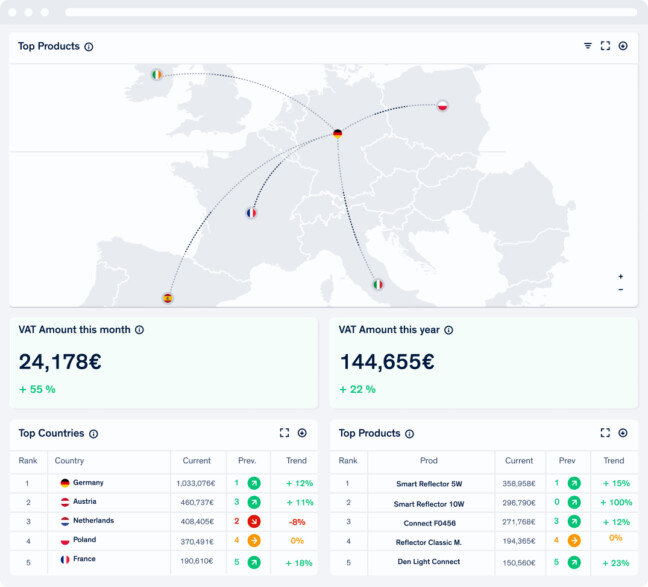 Your most important e-commerce KPIs
SPOT® pulls the invoice data from the merchants' shops and platforms. It aggregates it into a combined overview. With the Automated VAT Audit and Reporting assistant (AVATAR), SPOT® identifies compliance and regulatory requirements and offers solutions to meet and automate those requirements.
Your benefits at a glance
Full control of critical business KPIs

Real-time alerts on compliance, reporting and financial issues by AVATAR®

Centralized sales and settlement reports
Transparency on all tax and customs obligations

Omnichannel monitoring of all marketplaces, POS, and payment providers

End-to-End accounting data exporting to tax advisors & ERPs
Connect SPOT with marketplaces and shop systems
SPOT connects to marketplaces and shop systems in just three easy steps to visualise your sales transactions. Make better decisions with a precise and up-to-date overview of your e-commerce business.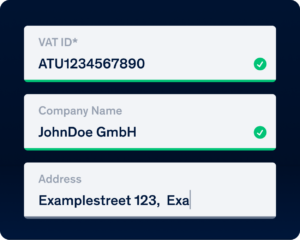 1. Create your account
Create your SPOT account and follow the onboarding guide.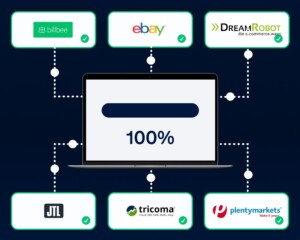 2. Connect your data sources
Connect SPOT to your data sources with just a few clicks.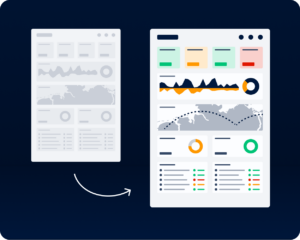 3. Get the full overview
Your SPOT dashboard is integrated and ready to go!
Free Trial
Free trial for 90 days, no credit card required and cancel at anytime during test, after the trial period only 8,90 EUR per month.
Questions
If you still have general questions or questions about the integration, please feel free to contact our support.