SPOT: Your Single Point of Truth
All your revenue, sales and tax data
in one ready-to-use financial dashboard
SPOT is your new financial dashboard. It is developed for enterprises looking to navigate their business through the tangled complexity of cross EU shipments, VAT reporting and tax compliance.
Try SPOT three months for free!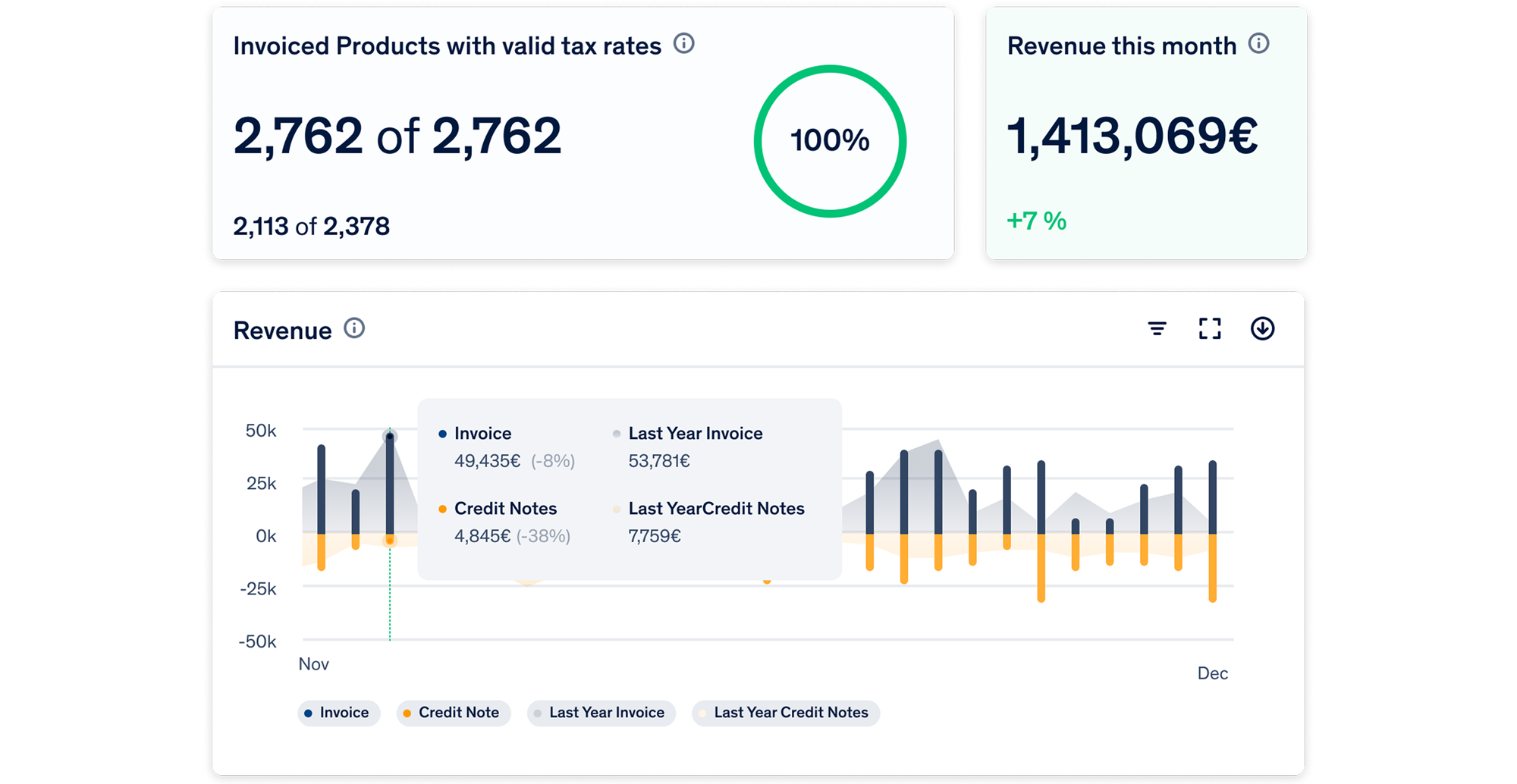 Effortless data extraction
Get the complete picture of your e-commerce business.
When operating a shop and being active on multiple marketplaces, SPOT pulls your invoice data from all systems and aggregates it into a combined overview. You no longer have to switch back and forth between different reports. A single SPOT log-in is all you need to access your revenue and sales data.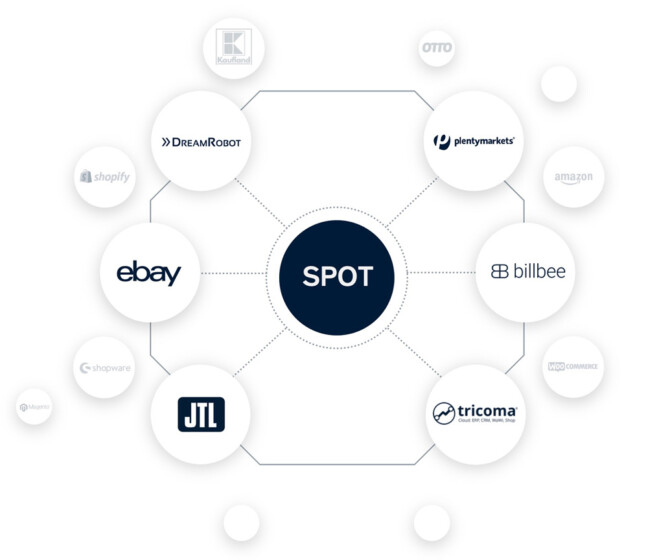 AVATAR: Take control of your business
AVATAR is your intelligent permanent transaction control.
The Automated VAT Audit and Reporting assistant (AVATAR) is a powerful tool that identifies your compliance and regulatory requirements. AVATAR offers you solutions to meet and automate those requirements, such as determining customs tariffs and tax rates, filing VAT returns, or pre-accounting.
AVATAR will be available soon.
Your all-in-one dashboard
Ready to use
Connect your data sources, and you are ready to explore. SPOT puts all transactions at your fingertips.
Shopping cart analytics
See your top 5 performing markets and products to analyse your company's growth.
Dynamic revenue chart
See revenue, invoices, credit notes and compare them with your accounting history of up to 12 months.
Export or show
Export your data visuals as JPG or use the presentation mode to display your analytics online or on-screen.
Financial Connectors
SPOT provides connectivity for billbee, eBay, DreamRobot, JTL, plentymarkets and tricoma and continuously adds new interfaces. *
Quick insights
Receive direct access to your most relevant KPIs that indicate the health of your business.
VAT rate validation
Benefit from the automated validation of VAT rates according to current EU regulations.
EU distribution map
Visualise your transaction streams as they happen with SPOT's tax, heat and flow maps for Europe.
* eClear is not responsible for any costs incurred by source system providers for the provision/export of your data from that system for transmission via interface to SPOT.
It's so easy to use SPOT!
Create an account, connect your financial data sources, and you are ready to go with SPOT!
You can use SPOT free of charge for the first three months.
After the trial, it is only EUR 8.90 (plus VAT) per month.
Do you have questions? Get in touch with us!
Keep up with your top markets and products