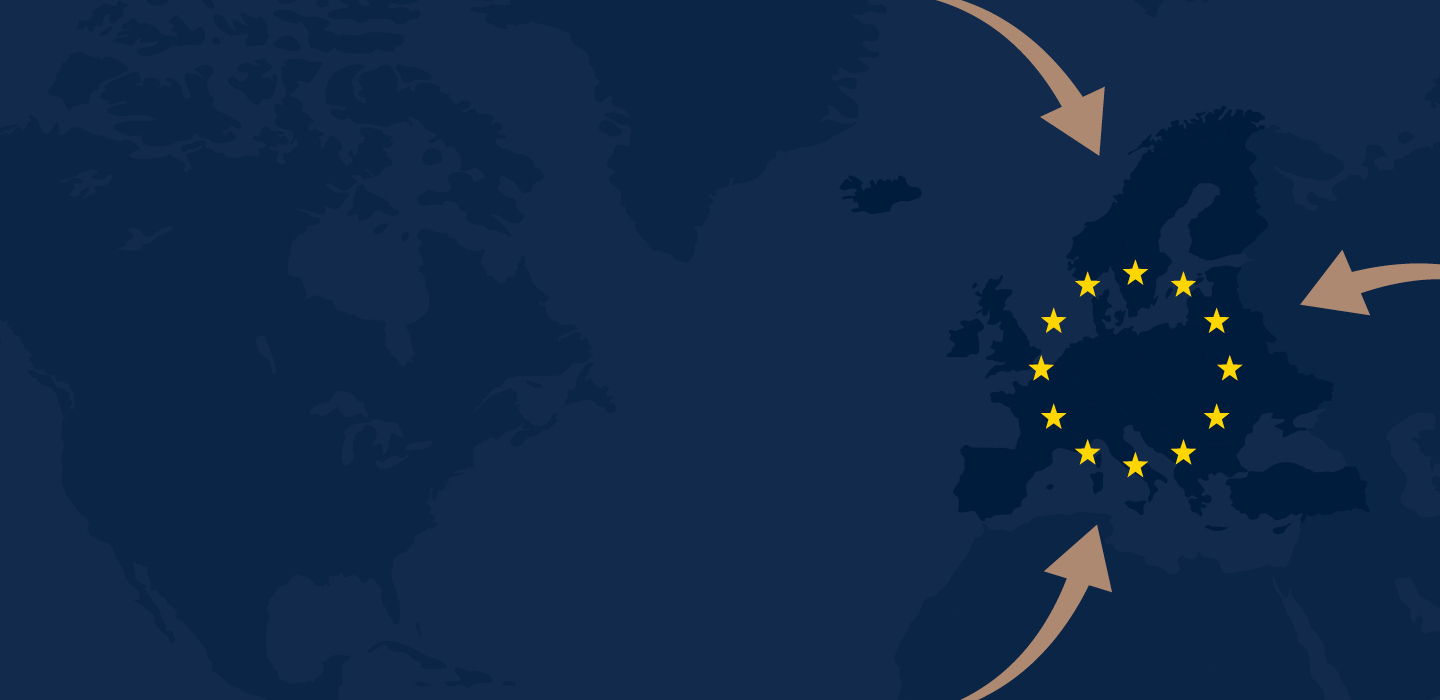 The full-service solution for your connection to the IOSS
The automated VAT and customs solution for merchants from a third country selling goods with a value of less than €150 to the EU.
The IOSS solution for non-EU merchants
IOSS+ offers a simplified connection to the Import-One-Stop-Shop for non-EU merchants. eClear takes care of the registration, fiscal representation and monthly reporting to the assigned tax authority in the country of registration and determines the correct tax rate for your products.
End-to-end solution for e-commerce merchants
Checkout payment + display of "country-specific additional costs" (optional)
Determination of tax rates in the country of destination with VATRules
Sale and delivery (DDP = delivered duty paid)
Customs declaration code F48 by the transit service provider
or representative of the importer at customs
Provision of relevant transaction data by the merchant 5a. Reporting of tax-relevant data
Payment of the determined tax debt to the respective tax authority, here BZSt.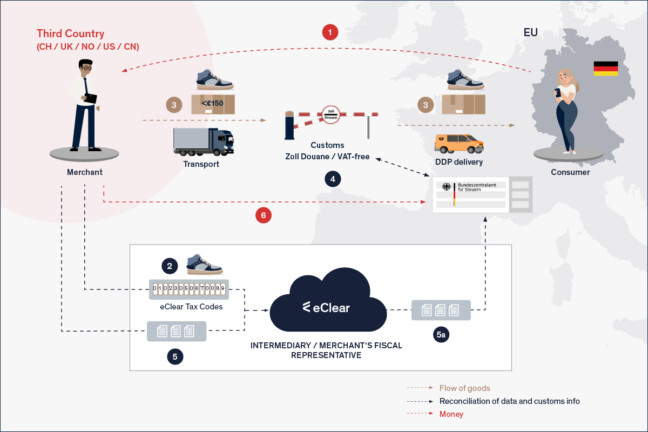 Always the right tax rate in Europe
The VATRules database includes over 1.2 million tax rates and special rules (eClear IDs) in Europe. Your advantage: eClear always calculates the correct tax rate in the destination country in real-time with its tax engine and displays it in the check-out.

Solutions for all system environments and platforms
Fully integrated Ready to go
Predefined processes and user-friendly workflows enable easy integration into your ERP or shop system and make the use of our products intuitive.
Our solutions run supported by powerful SAP technology as a plug-in or custom integration. Choose the right product for your system environment in our store.
All-in-one – your connection to the IOSS
One-Click API directly available
Customs clearance by fiscal representative (intermediary represented in the Member State) for consignments < €150 value of goods
SPOT: the financial dashboard – all sales in one place
Integrated VATRules database for all EU-27, dynamically updated and direct calculation of import duties in the shop system (optional)
Automated and paperless end-to-end tax reporting
Connection to the IOSS via fiscal representative in the member state of registration
Individual consultation
Do you have questions about our product? eClear's team of experts will answer and present you with the proper integration solution for your system environment.
Please send us your request via the contact form. We will get back to you as soon as possible.
Product demo
Learn how IOSS+ works in a product presentation. Under the following link, you can choose a date from our calendar and book your product demo directly.
Online seminar
Learn more about our automation solutions in one of our online seminars. Click on the link to access our seminar calendar and choose a date that suits you.
Download factsheet
The most relevant information on IOSS+, summarised in a PDF, is available for download here.