Whether it's our database that provides valid VAT rates at your shop's point of sale for European countries or our full-service clearing that takes over your cross-border VAT obligations; eClear's software services integrate natively with existing SAP business processes.
Accelerate your cross-border B2C and B2C business
When selling products in European countries, businesses are legally obliged to collect the Value Added Tax (VAT) from the consumer (B2C) according to the country of delivery (Destination Principle). The variation of VAT rates combined with multiple regional exceptions and temporary adjustments within the EU causes significant challenges to implementing the requirements.
With eClear's automation solutions, merchants overcome the complexity of transactional taxes in Europe and accelerate their cross-border B2C and D2C business.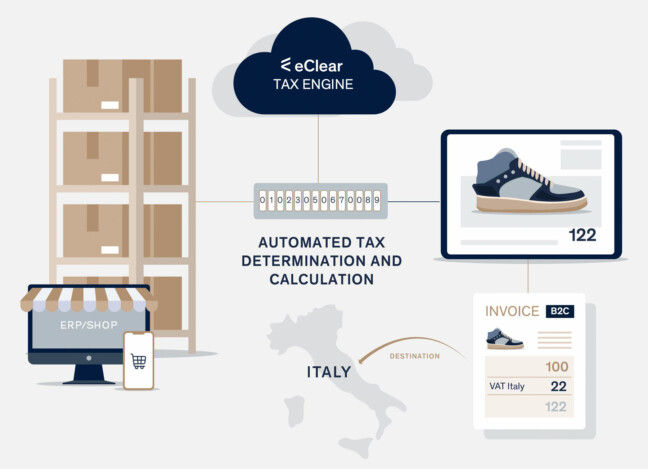 Much more than a VAT database
Classify your entire product range in the specific VAT logic of each EU member state.
Certified, system-integrated and always up-to-date.
Every standard rate, every reduction, every exception
eClear 1.0 connects you to our VATRules database. It integrates into the SAP pricing determination with direct access out of the SAP SD module (Sales & Distribution).
eClear's database provides valid VAT rates at point of offer and order creation in SAP.
Is the sale of goods taxable or tax-free? Which tax rate is applicable? — Regular, reduced or super-reduced? Which exemptions and re-exemptions are in effect?
eClear 1.0 applies this tax content for Europe in your ERP. Article-specific and always up-to-date.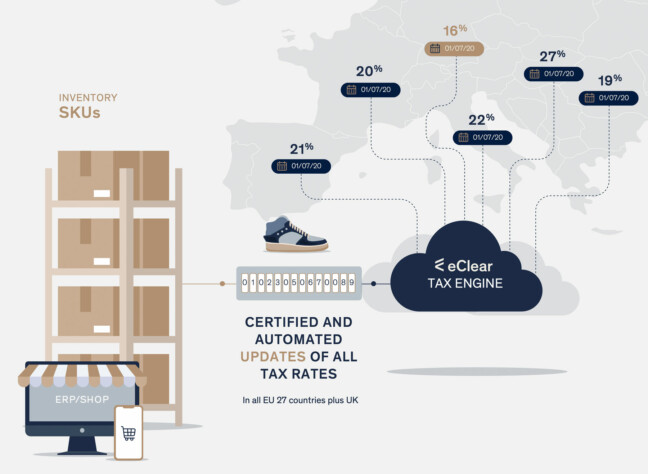 Tax determination and calculation
The Features of eClear 1.0
More than 1.2 million tax codes and over 300,000 exceptions for all EU-27 plus Northern Ireland
On-demand database, tax rates continuously updated
Certified data quality
High-performance REST API, certified response under 100 ms
Native integration into existing SAP business processes
Plugin available for SAP S/4HANA and SAP Customer Experience (Hybris)
Tax compliant application of the current VAT rates for the EU-27 plus Northern Ireland
Competitive advantages through country-specific price calculations, considering currently applicable local VAT regulations
Process optimization and time savings through automation in a one-time grouping process (fast go-to-market)
Increase in customer satisfaction through the correct application of local VAT rates
The new European standard
eClear extends the 10-digit European TARIC code by four additional digits.
All exceptions, reductions, VAT, and customs regulations applicable in the EU are coded here. This level of accuracy is required to provide correct tax rate information for error-free tax declarations.
With eClearID, products and VAT rates are clearly assigned and matched to each other. A one-time effort that ensures an accurate mapping of VAT rates along with product and regional EU tax rates: Once assigned – always up to date!
Rapid expansion into European markets, portfolio expansion, scaling, efficiency gains, the outsourcing of VAT risks and declaration obligations … With ClearVAT Services 1.2, your sales of goods to B2C consumers are VAT-free.
Cross-border e-commerce with ClearVAT Services 1.2
The country of destination principle applies to cross-border B2C sales of goods. Merchants are required to calculate and report VAT according to the regulations applicable in the respective country of the recipient and pay the amount due to the tax authorities there.
With ClearVAT Services 1.2, eClear manages all these obligations. For merchants, cross-border B2C sales within the EU are completely VAT-free.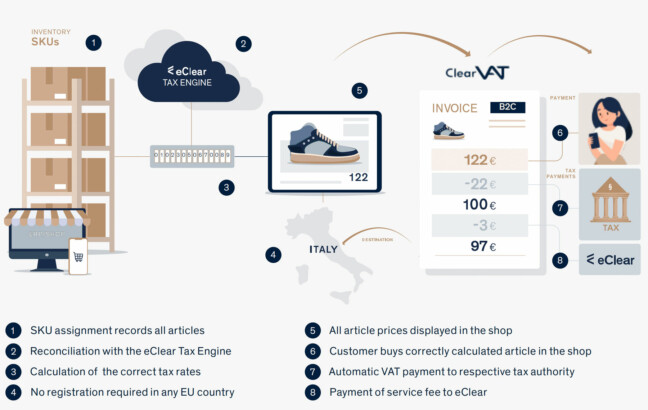 VAT-free sales throughout the EU
The Features of ClearVAT 1.2
Correct tax rates from all EU-27 for all products (eClear 1.0 included)
Tax rates are assigned to products
The tax rates for each country are correctly displayed in the checkout
Native integration into existing SAP business processes
Plugin available for SAP S/4HANA and SAP Customer Commerce (Hybris)
Registration-free: No registration required in EU countries
Tax-free: Outgoing invoices will always show 0% VAT throughout Europe
Liability-free: EUR 0.00 foreign tax debt in your bookkeeping
Audit-free: ClearVAT frees you from tax audits abroad
Refunds without waiting, liability- and audit-free
ClearVAT Services 1.2 eliminates waiting periods for tax refunds: Tax refunds by the European tax authorities have been associated with enormous waiting times for merchants. eClear frees merchants from this hassle and the risk of not being reimbursed.
No liability, no audit: We assume liability for VAT from cross-border B2C transactions in Europe. No need to communicate with foreign tax authorities. No more risk of a foreign tax audit.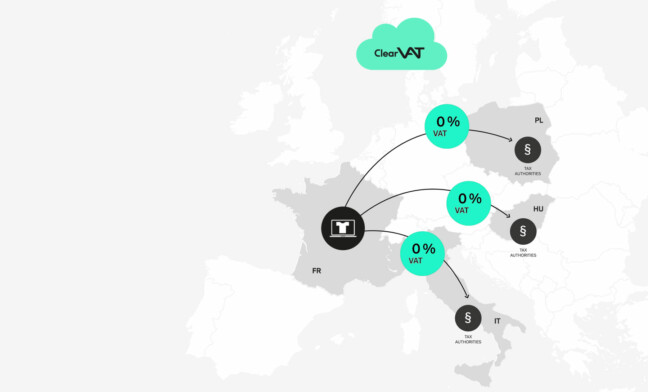 Multi Hybris Commerce Suite
eClear TAX API support Hybris Versions 6.6, 6.8, 1808, 1811, 1905 & 2011
One merchant can host multiple shops and calculate VAT for destination countries.
Ship to end customer location from various merchant warehouses. Dynamical tax rate calculation based on the From-To basis.
Fully integrated with Payment Service Providers with SAP Customer Experience backend.  Supports Credit Cards, Bank Transfer, and Payment in Advance (PIA).
API is available in most of European languages.
The plugin installation into the merchant's SAP Customer Experience platform is based on the standard SAP installation process.
Please send us your request
Individual consultation
Do you have questions about our product? eClear's team of experts will answer them and present you with the integration solution right for your system landscape.
Please send us your enquiry via the contact form. We will get back to you as soon as possible.