The outbreak of the Coronavirus in 2020 had far-reaching consequences worldwide. International supply chains were not spared – quite the opposite. Even in 2021, companies had to cope with overloaded supply chains, as a result of which functional logistics has now evolved from a cost factor to a real competitive advantage for companies.
In addition to the well-known consequences of the pandemic, there are numerous other reasons that make a smooth supply process difficult. These include material shortages, production constraints and labour shortages. Especially for online merchants, the increased demand also plays a decisive role. In this article, we highlight the current situation of global supply chains, address the reasons for and consequences of supply bottlenecks, and provide tips for short- and long-term solutions for e-commerce companies.
Supply bottlenecks – the current situation
"The procurement problems from industry have now also made their way here", says Klaus Wohlrabe from the ifo economic research institute, referring to the retail sector. In November 2021, just under 78% of German merchants complained of supply issues, according to their survey (in October 2021, the figure was just 60%).
However, the challenges are far from being a German issue alone – quite the opposite. For example, as early as the beginning of November, 70 fully loaded transport ships had to wait outside the ports in Los Angeles and Long Beach (by the beginning of December, this number had already reached 96 cargo ships). Nearly 40% of U.S. imports pass through these two ports. Resources to load the arriving cargo are simply scarce.
When supply problems are mentioned, Asia is often mentioned, especially China. The "Middle Kingdom" accounted for 28.7% of global production in 2019. Thus, it comes as no surprise that problems are predominantly related to production. The lack of materials plays a major role here – more on that in a moment. Beyond that, however, there are complex reasons, such as dysfunctional circulation of containers, that lead to difficulties in shipping goods.
In the UK, too, resources are lacking at every turn. For example, Maersk, the Danish global market leader, announced in October that it would no longer be calling at the UK's largest port, Felixstowe. The reason given was that the port was completely congested.
Reasons for supply bottlenecks
There are many reasons for supply chain problems, some of which have reciprocal effects, creating a complex problem that is difficult to solve. Some of these factors and potential causes are highlighted below.
Pandemic
One obvious reason for the strain on international supply chains since 2020 is the Corona pandemic. Initially, labour shortages due to any lockdowns and restrictions were most noticeable. In addition, stricter border controls are delaying the movement of goods in the international market, and are additionally creating greater workloads.
While the first two points are obvious, the situation is significantly complicated by the different phases of the pandemic in different regions. In Asia, for example, the effects were felt early, but the virus with its consequences did not arrive in the rest of the world until a later stage. However, with stringent measures, China and Co. quickly managed to stabilize production at an almost normal level. At that time, however, Europe, for example, was in the first big wave. This imbalance created and continues to create hurdles, some of which are almost impossible to overcome.
One of the biggest problems is an out-of-balance distribution of containers. For example, the early start of production in Asia and the unbroken demand in the USA have led to a large quantity of filled containers being imported into the USA, but not re-exported. Currently, there is talk of a 40% rate – of every 100 containers delivered to the USA, only 40 are re-exported. This has created a massive shortage of cargo containers in Asia.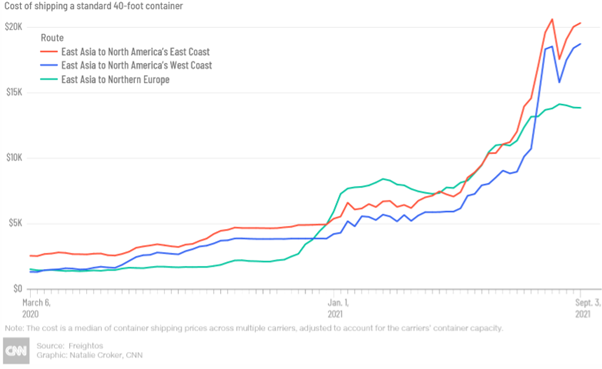 Customer buying behaviour leads to material and production bottlenecks
The pandemic has changed the daily lives of almost everyone. Purchasing behaviour has not been spared either. On the one hand, people around the world are increasingly shopping online, but on the other hand, the type of products purchased has also changed.
A good example was the abrupt increase in purchases of home office devices triggered by the first lockdown. Companies were not prepared for this. It is therefore understandable that there were sometimes extreme delays in deliveries at that time.
In general, sales of consumer electronics also rose sharply. The result – a shortage of materials necessary for the production of these devices. The best known and most discussed of these is the issue of chips. This phenomenon can also be clearly seen in other areas. Thus, in general, a lot has been invested in one's own home – money that normally might have been invested in a new car or holiday has not infrequently been used to buy a new kitchen or furniture. This in turn has led to an increase in demand for wood, with the result that this raw material is now considered a scarce commodity.
Similar examples can be found in abundance, from bicycles to toys.
Merchants buying behaviour
Can you remember when supermarkets ran out of toilet paper? That's because, as a result of delivery problems, merchants buy as much merchandise as possible. But when many do so at the same time, the result is precisely what we saw in supermarkets at the beginning of the pandemic. Products are either sold out or cannot be replenished (reshelved) in time. This in turn motivates more people to buy up the remaining stocks, which leads to further congestion in the supply chains. This vicious cycle can also be seen in global trade, leading to shortages of raw materials and an overload of storage capacity.
Shipping capacity
Logically, to meet the increased demand, more ships have to be operated, more containers have to be transported, and they also have to be loaded. At the ports in particular, however, this leads to overheating and excessive demand. The consequences of this – long traffic jams in front of the ports and thus longer delivery times. To avoid the traffic jams, some shipping companies try to switch to smaller ports or take other routes. This also leads to long delays, but is done anyway in part because it is easier to plan.
Labour shortage
There is currently a shortage of labour along the entire supply chain. In some cases, entire port areas or warehouses have to be temporarily closed due to coronavirus clusters. In addition, there are threats of strikes due to conditions and certain restrictions related to Corona measures.
In addition, there is a lack of truck drivers to transport cargo from the ports to the different regions. This was and is most apparent in the UK. According to a study by the British market analysts Transport Intelligence (TI), Europe even lacks 400,000 truck drivers. An incredible figure, to which Germany contributes 60,000 vacancies, according to the study.
Production companies are also affected by this labour shortage, and warehouse employees are also in demand. Finally, the largest parcel services in Germany and elsewhere are also lacking numerous employees to handle the stressful Christmas business and e-commerce days like Black Friday and Cyber Monday.
Fulfilment companies like byrd can help merchants outsource their logistics and gain access to a wide range of shipping partners. This makes the supply chain more flexible and robust, and order fulfilment worry-free.
Ship Happens – The Suez Canal Blockade
The event that made high waves in March, even in the mainstream media, was the blockade of the Suez Canal. On March 23, the Ever Given became wedged in the Suez Canal, making it impossible to get through. It took 6 days for the blockade to be lifted, but by then the damage was done. At its peak, the traffic jam amounted to 367 cargo ships, even though many shipping companies were already using alternative routes, such as via the Cape of Good Hope.
To understand the extent of the blockade, it is important to know that about 12% of the world's trade passes through the Suez Canal, with about $10 billion worth of goods passing through daily. Normally, about 50 ships pass through the canal per day. So one can imagine that even after the "liberation" of the Ever Given, it took some time for the backlog to be cleared.
As described above, global trade and goods transport is intertwined. For this reason, such a disaster runs through the entire supply chain. Because it was already overloaded before, the blockade helped to further overload the "system" and is still felt today.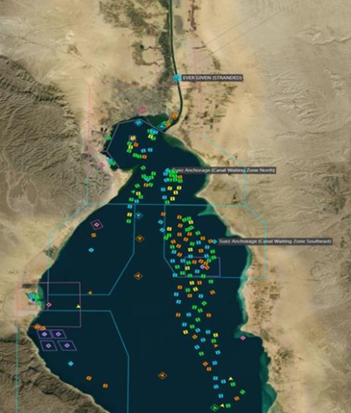 Consequences of the bottlenecks
The consequences of all these causes are far-reaching and range from the price of goods and services to delayed delivery times and supply bottlenecks. In the worst case, there are even total delivery failures.
Prices
One of the most logical and central principles in all areas of business is that price is determined by the relationship between supply and demand. Global supply chains are no exception. As if a price increase in shipping line capacity, more expensive container usage and generally more expensive commodity prices were not enough, fuel prices are also at an all-time high. All this leads to an acceleration of inflation.
A more detailed analysis of the impact of increased logistics costs on e-commerce can be found here:  The impact of increased logistics costs on online commerce.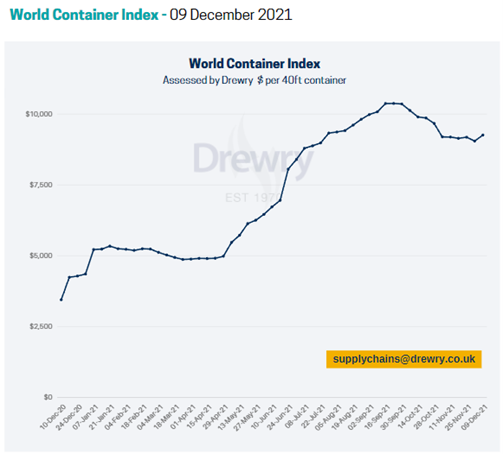 Delivery times
Unsurprisingly, delivery times are also heavily impacted by the current situation. Triggered by production, delivery and shipping delays, merchants and shoppers are thus forced to be patient in many cases.
Which sectors/products are affected
To list all the industries and product groups affected by supply chain congestion would go beyond the scope of this article. However, we have picked out a few examples to illustrate the impact.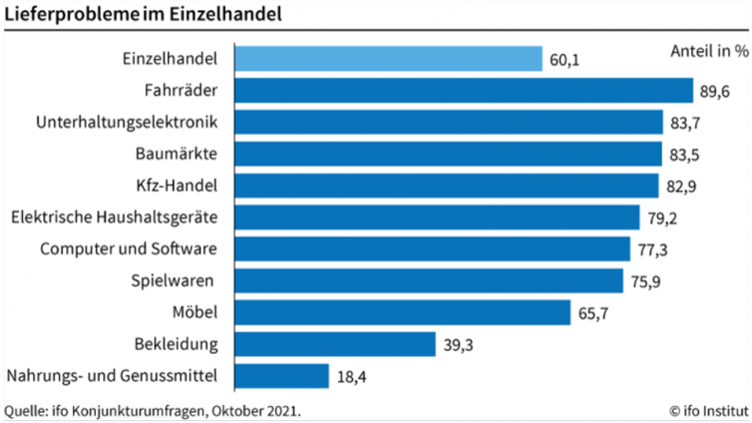 Delivery problems with bicycles
The bicycle industry is one of those that has felt an increase in demand due to the pandemic. However, this increased popularity of bicycles cannot be satisfied – especially frustrating for any merchant. According to Hans-Peter Obermark of the Association of German Two-Wheeler Dealers (VDZ), dealers are still waiting for about 40% of the bikes they ordered last year at the end of November 2021. He does not expect the supply chain to return to normal until the end of 2024.
Supply bottlenecks in consumer electronics
The consumer electronics industry is one of the sectors most affected. Whether PlayStation 5, Xbox, smartphones or smart home products – all of these are currently in short supply. The reason for this is not least the aforementioned chip shortage and delivery problems. In this area, too, delays of several months are to be expected in many cases.
Lack of resources for furniture
The shortage of resources is also particularly noticeable regarding furniture. For example, furniture giant Ikea announced in October that a significant drop in availability was to be expected. If such powerful market players are already having difficulties with product procurement, one can imagine that smaller merchants are facing even greater challenges. Incidentally, the rising price of lumber will not only impact furniture prices and availability. Rather, the construction industry will also be impacted, and it is even expected that the prices of books will increase.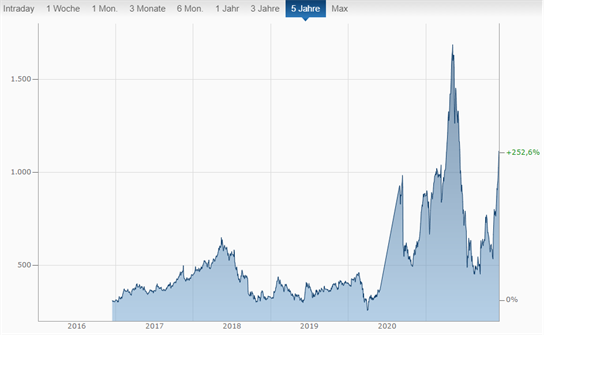 Quick fixes – solutions to supply shortages
Right up front, the brutal truth – often, there are few ways to find quick fixes to get products faster. Instead, it's a matter of communicating proactively with customers. For example, it is advisable to explain the reasons for stock-outs and find satisfactory solutions together. There is no such thing as "over-communication" in these matters, and you will be surprised how understanding most buyers are when communicated within a timely and open manner.
Long-term solutions to supply shortages
Eventually, there are several ways to guarantee the supply of replenishment. These include replenishment to restock earlier. The key to success, and therefore the most difficult task, is planning but also financing the products. But because we live in crazy times, planning is a difficult task right now.
While for decades offshoring was a big buzzword of globalization, many companies rather relied on so-called reshoring. Simply put, this means manufacturing products closer to where they are sold. This can reduce risks such as supply bottlenecks and, incidentally, also reduce the impact on the environment.
Another option, especially in the D2C area, is to build up a warehouse yourself or to use the services of 3PL (Third-Party Logistics) companies, for example. Especially, merchants using the drop-shipping model suffer the most from supply chain problems. For those very merchants, it might be beneficial to resort to their warehouses to be able to absorb delivery delays.
Supply chain problems – When will everything be back to normal?
Predicting when everything will return to "normal" is like trying to guess the lottery numbers. However, almost all experts agree that global supply chains will take longer to cope with the congestion. Many of these experts are talking about a period of at least 18-24 months. So, it is safe to say that merchants should actively look for solutions to keep their business running.
We are sorry that this post was not useful for you!
Let us improve this post!
Tell us how we can improve this post?