Over the past year, a growing number of small and mid-sized retailers have decided to start selling their products online. This trend accelerated slightly following the temporary closures of retail outlets during the coronavirus pandemic.
But merchants who decide to make the move to online retail face several follow-on questions. One of the most important is "Should the goods be sold through an independent online shop, or through an online marketplace – or both?"
This is the question addressed in this article, which is the start of a 4-part miniseries specifically for the e-commerce market.
Retailers planning to expand online business
The brick-and-mortar store is the most widely used sales channel for retailers. According to the ibi research study 'Der Handel im Jahr 2021,' some 78% of companies operate retail outlets, and more than half (55%) maintain online shops. Another 16% plan to sell via online shops in the future.
The share of retailers using an online marketplace is lower. But here, too, the signs are pointing to expansion. Some 15% of retailers are currently selling goods via eBay. Another 7% are planning to do so in the future. 17% sell through Amazon (4% planning to do so), 16% through another national marketplace (with another 11% planning to do so in the future). Local online marketplaces are used by only 8% of merchants, but 14% plan to use them in the future.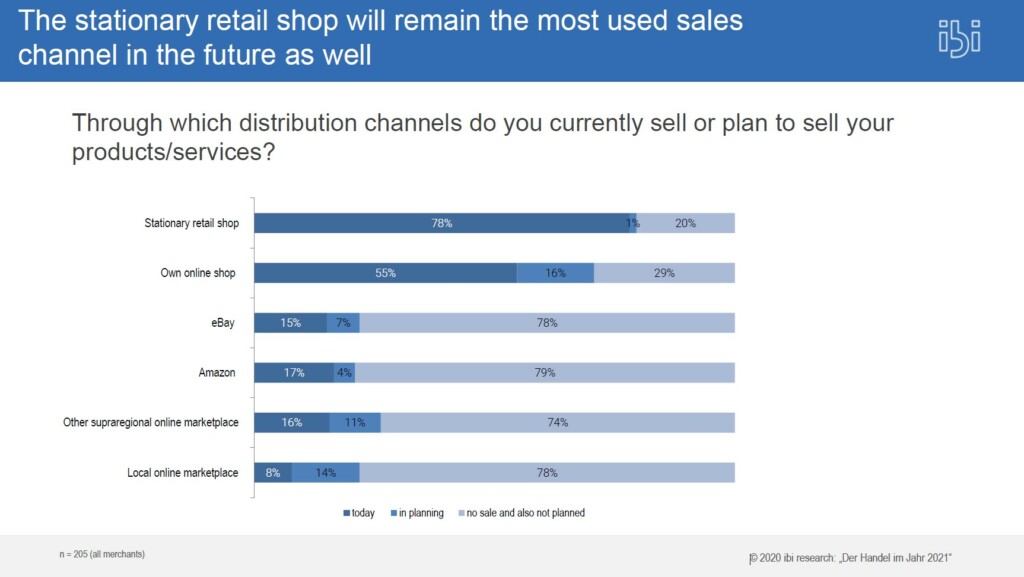 Faster market integration with a ready-made shop
The popularity of online marketplaces makes them a good choice. For example, retailers who offer products via marketplaces aim to attract new customers and increase sales. Registration for a marketplace is also quick and easy. Setting up an independent online shop, on the other hand, requires planning and often a bigger investment. Many marketplaces offer a quick way to offer goods on an international scale.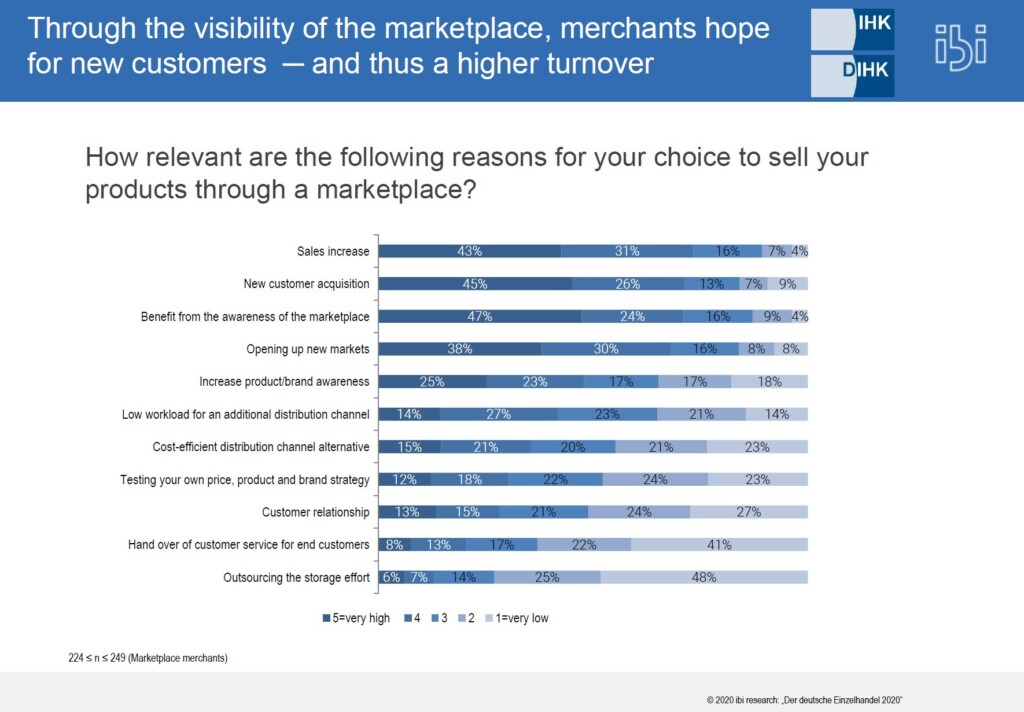 VAT and delivery thresholds: keeping track of multiple channels
Once retailers have come to appreciate online marketplaces, they often plan to expand their business to more marketplaces in the future. According to the ibi research study "Der Handel im Jahr 2021": "Although multichannel retailers already sell on different platforms channels, one-third expect to establish new channels."
The complexity of managing VAT also increases with the number of marketplaces a retailer uses (often in addition to an online shop). For sales within the EU, the retailer must extract and prepare the VAT-relevant data from all channels to be able to declare the taxes correctly. This is where eClear offers valuable support. The OSS+ cloud-based solution combines data from all shops and marketplaces following a mapping and analysis process. It prepares the declaration for the One-Stop-Shop of the competent tax authority.
Another fact that merchants need to be aware of: new delivery thresholds apply in the EU since July 1, 2021. As soon as a merchant exceeds EUR 10,000 in annual cross-border trade in the EU, he must pay VAT on these goods in the customer's country. Our Merchant Dashboard offers a comprehensive overview. Among other things, merchants can see their turnover according to sales country and the respective shops and marketplaces.
Note on the studies used in this article:
Both the study "Retailing in 2021" and the study "German Retailing in 2020" were published by ibi research, produced in Germany, and refer exclusively to the German retail sector.