The Christmas tree remains popular
Whether spruce or Nordmann fir – for many people, a real Christmas tree is simply part of the festive season. According to the Federal Statistical Office – Destatis, 20,100 hectares of Christmas trees were grown outside the forest in Germany in 2021.
The area under cultivation thus grew by 26.4% compared to the previous year. In 2020, the areas planted for felling from domestic cultivation comprised 15900 hectares, and a total of 3350 farms cultivated Christmas trees last year.
The number of Christmas trees grown in Germany needs to be recorded in the official statistics. Since the local quantities cannot cover the demand for fresh fir greenery, around 2.4 million new Christmas trees will be imported to Germany in 2021 – 13.0% more than last year. With 1.9 million trees, most came from Denmark, as in previous years. The neighbouring northern country supplied four-fifths (79.8 %) of the Christmas trees. One-third of the Danish trees arrived in this country already in November, two thirds in December 2021.
January to September 2022: Consumer electronics worth 9.2 billion euros imported
At Christmas, it is not only the tree that is important, but also what lies beneath it: Consumer electronics such as game consoles, headphones or digital cameras are popular Christmas gifts. A large part of these items are produced abroad. In the first three quarters of 2022, consumer electronics worth 9.2 billion euros were imported into Germany. Compared to the same period last year, this was an increase of 17.0%. Compared to the first three quarters of 2020, the value of imports rose by 35.1%.
Consumer electronics imports usually pick up significantly before Christmas. In the last year, 2021, the 4th quarter accounted for 3.9 billion euros, a third of the total imports of 11.8 billion euros.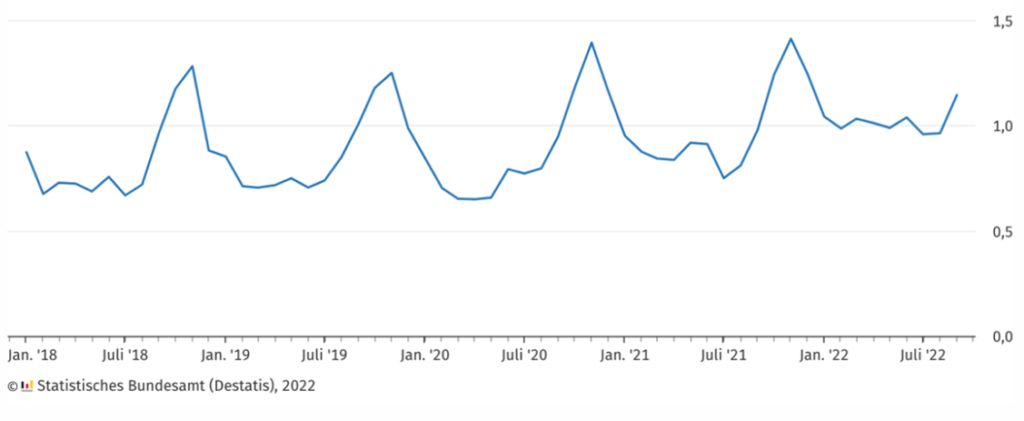 Almost three-quarters of all carps come from Bavaria and Saxony
Another classic Christmas food is carp. In Germany, the fish is mainly produced in farms in Bavaria and Saxony: Almost three-quarters of the 4 600 tonnes produced in 2021 came from these two federal states. Brandenburg came in third after Bavaria (37.5 %) and Saxony (36.8 %), with a share of 12.4% of the total quantity produced. Bavaria is also home to the most farms with carp breeding: 1,216 of the 1,487 farms breeding carp in 2021 were located in the southern federal state.
The carp is one of the essential freshwater edible fish – and one of the most farmed: A quarter of the 18,300 tonnes of fish produced in German aquaculture farms last year were carp. Only rainbow trout, at 5,800 tonnes, had an even greater quantity.
Sparkling wine consumption down by almost a quarter since 2011
People toast with sparkling wine, prosecco or champagne on a festive occasion like Christmas. In 2021, 2.64 million litres of sparkling wine were sold in Germany. On average, every person over 16 drank almost five bottles of sparkling wine or 37 glasses of 0.1 litres each. Per-person consumption has fallen continuously recently, by 23% within ten years: in 2011, it was still 6.5 bottles or 49 glasses.
We are sorry that this post was not useful for you!
Let us improve this post!
Tell us how we can improve this post?