Guanggun Jie is the "Single's Day". It was launched by students at Nanjing University in China in 1993 and takes place annually on 11 November, with the many ones in the date 11.11. symbolising the individual, i.e., the single person. Today, the Chinese e-commerce giant Alibaba runs the shopping day.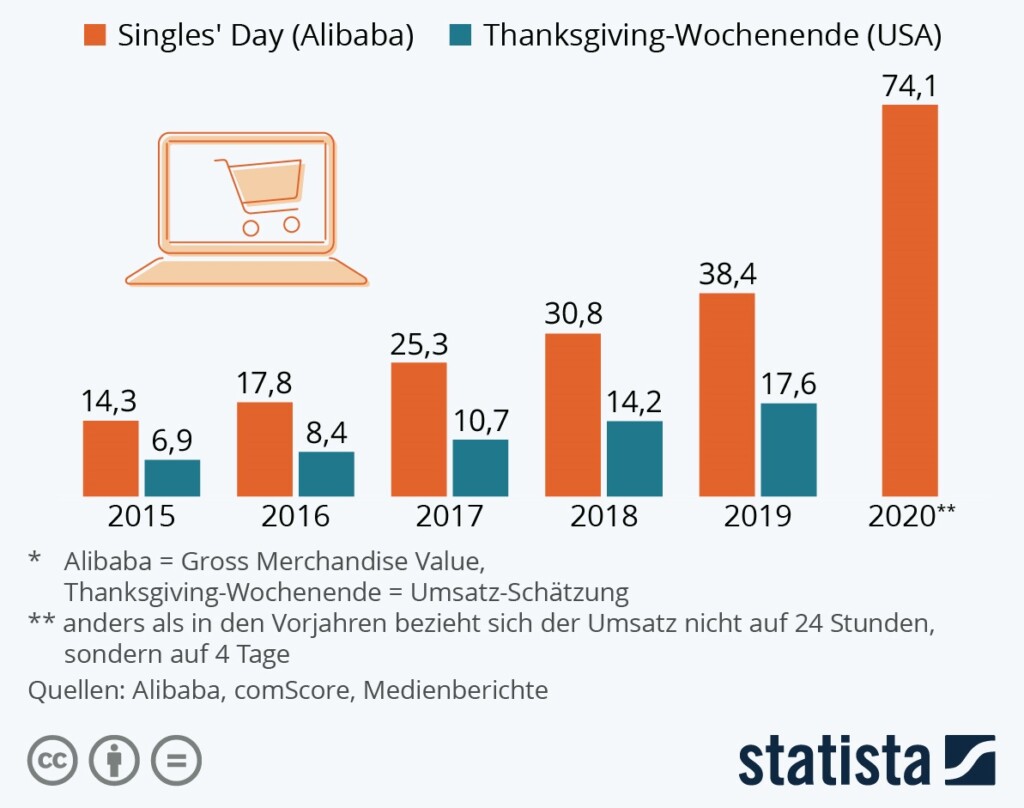 Recently, sales have been significantly higher than Black Friday and the other traditional US shopping day, Thanksgiving, combined. In 2019, the billion dollar mark was already cracked after one hour thanks to many pre-orders. Total sales were $38.4 billion (compared to Thanksgiving USA's $17.6 billion). In 2020, Single's Day reached a record of 74.1 billion dollars. These figures make it the world's top-selling shopping event.
China beats USA in sales
The Chinese New Year is only a little below the sales level of Single's Day, although it is celebrated by more than one billion people. The Chinese celebrate the beginning of the year according to their monthly calendar by buying plenty of gifts, food, or decorations. Facts on the sales of this festival, which lasts a total of seven days: according to Hong Kong Means Business, Hangzhou, the capital of Zhejiang province, recorded sales of around 118 billion US dollars over six days in 2016.
A crazy sales weekend worldwide
In the USA and Western countries, a complete extended bargain weekend has been established in November: from Thanksgiving to Black Friday to the latest event, Cyber Monday.
Thanksgiving always takes place on the fourth Thursday in November. It is one of the most important holidays in the USA and the traditional start of the Christmas season in retail. According to consumer experience, large department stores such as Walmart or Best Buy often offer discounts on Thanksgiving that cannot be found at the same level on the following day's Black Friday or Cyber Monday. And despite these two online shopping events, Thanksgiving Thursday has also established itself as an online shopping frenzy. In 2020, e-commerce sales for Thanksgiving Day alone were $4.94 billion, according to Statista.
Black Friday – increasingly popular in this country, too. Black Friday follows on directly from Thanksgiving. Invented in the USA, merchants offered more and more special offers for this strong sales day to set themselves apart from other sellers. Black originally resulted from merchants being "in the black" on this day as they made profits.
Gradually, the Black Friday wave spread to other industrialised nations. It has been popular in Germany since 2013. Large American companies like Apple made it popular in this country. However, it is used more as an online shopping promotion and has developed rapidly recently. According to payment provider Klarna, 64% more sales are made on Black Friday than on a normal Friday.
Cyber Monday – the Monday after: It was created for two reasons. Firstly, to pull US consumers out of overcrowded department stores on Thanksgiving and into online business. On the other hand, it was meant to reduce the chaos of Black Friday orders. Today, the Monday discount battle has long since become a worldwide hit. Especially in the United Kingdom, on the European continent and in Latin American countries like Brazil or Argentina, Cyber Monday has long been very popular. In the USA, it is one of the top-selling sales days in 2020 with 9.81 billion US dollars.
All sales figures of the past years can be compared here.
By the way, according to the German Retail Association, Germans spent 1.7 billion euros on the four-day "Cyber Weekend" from Black Friday to Cyber Monday 2017, almost 20 percent more than the previous year.
Bargain hunting in Anglo-Saxon countries
Boxing Day – this is the name of a classic event that boosts sales, especially in stationary retail. It is celebrated in the United Kingdom and other British countries such as Australia. It is the day after Christmas, 26 December because there is no second Christmas Holiday here. The name comes from the tradition that companies used to reward their employees with so-called Christmas Boxes with small gifts. On the Boxing Days of nowadays, consumers exchange their Christmas gifts and redeem vouchers. In addition, merchants offer discounts, sometimes massive, to offload surplus Christmas stock. In 2018, Australians alone accounted for $2.4 billion worth of sales.
By the way, Australians celebrate their online shopping day Click Frenzy on the second Tuesday of November. In New Zealand, Click Monday takes place on the Monday before Thanksgiving. Both events are considered the equivalent of the US Cyber Monday.
India: Festival of lights as a shopping highlight
Diwali, the Hindu festival of lights, also makes the cash registers ring and the merchant servers run hot on the Indian subcontinent. The festival usually takes place between the end of October and the beginning of November. In India and Nepal, it is the biggest shopping holiday of the year. The occasion of the celebration: the return of the god Rama to his kingdom, and thus the victory of light overshadow. Traditionally, Hindus buy festive lights, fireworks, and decorations for the houses. Increasingly, they also purchase gifts such as mobile phones, electronic items and luxury goods for their friends and families. According to a customer survey by India's leading cashback and coupon website cashcaro.com, consumers spend up to US$ 780 per head.
Bargain rush in Mexico
El Buen Fin, the good end, is what Mexicans call the beginning of their Christmas season. It takes place on the weekend before 20 November, the Mexican Revolution holiday. All kinds of consumer goods, clothes, and electronics change owners every year. In 2018, El Buen Fin was the fourth-largest shopping event in the world, with sales worth around US$4.7 billion. The difference to other sales events is that the state initiates them and enables tax-free shopping. This is intended to boost consumption. Among all those who shop at El Buen Fin with credit cards, the state raffles off more than 150,000 cash prizes worth a total of more than 25 million US dollars every year.
"Do buy" in the Persian Gulf and more
Customers can also shop tax-free at the Dubai Shopping Festival around the turn of the year. In 2018/19, retail sales amounted to around five billion US dollars, surpassing El Buen Fin, albeit across the year.
In Singapore, the third most important online shopping day in Asia after Singles' Day and Black Friday, which is also celebrated here, takes place every 12 December. This day is also the kick-off for Christmas Shopping with a light show on the shopping mile, Orchard Road. The Japanese and Koreans always give their wives white gifts such as white chocolate on 14 March. So, this White Day is a kind of Valentine's Day. The colour white stands for happiness.
Amazon Prime Day
Finally – with Prime Day, the US shopping giant has finally created its own consumer festival. For two days, Prime members receive exclusive discounts. The annual Prime Day took place in 2021 on 21 and 22 June. According to Statista.de, Amazon turned over around 11.2 billion US dollars in the 48 hours.