The year 2020 started with changes in value-added tax law. AWB Steuerberatungsgesellschaft and AWB Rechtsanwaltsgesellschaft are dedicating a webinar to the innovations and their implementation in practice as part of their spring conference 2020, the 1st Digital AWB Business Breakfast. One focus will be on the significance of the value-added tax identification number (VATIN) in connection with the tax exemption for intra-Community deliveries.
Using the CheckVAT web application as an example, ClearVAT will present the possibilities for audit-proof checking of the VAT identification number of European trading partners during the webinar. The browser-based and, thus, the platform-independent tool enables automated querying of individual and, above all, several VATINs simultaneously. CHECKVAT uses its interface to the Bundeszentralamt für Steuern and the European VAT Information Exchange System (VIES). The web application can also implement a master data check of German trading partners. It was developed with the professional support of AWB Steuerberatungsgesellschaft. You can find out more about the functions on our product page.
The AWB Business Webinar will take place on 23 June 2020 from 10 a.m. to 1 p.m.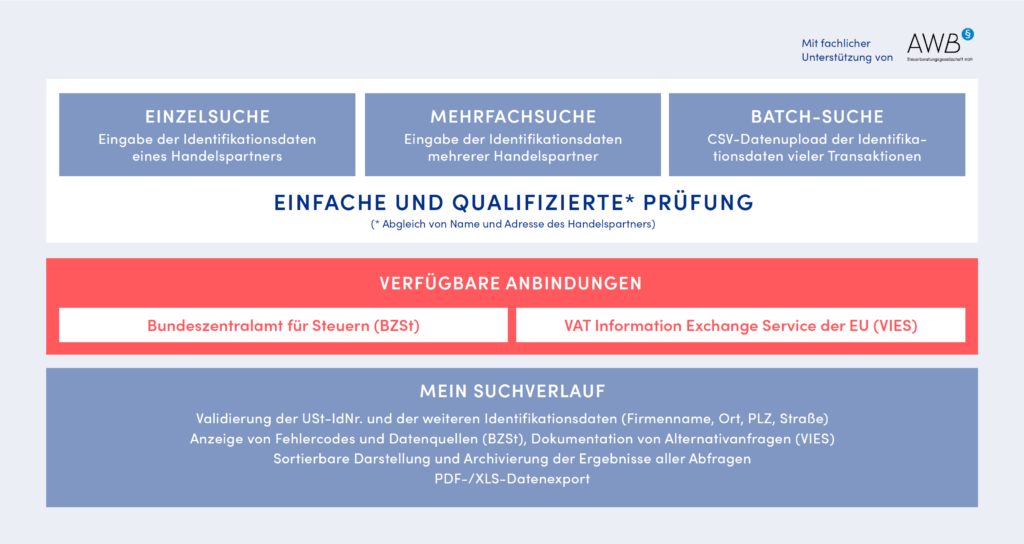 Background: The tax exemption for intra-Community deliveries has been more strictly regulated since 2020. The customer must be registered in the respective country if goods are shipped to a business customer within the EU. For this purpose, he needs a VAT identification number. The indication of the valid VATIN of the customer as part of a complete recapitulative statement is now an explicit requirement for the tax exemption of intra-Community deliveries (§ 6a para. 1 number 4 UStG). At the same time, the supplier is responsible for ensuring that the customer's VATIN documented in the recapitulative statement is valid at the time of delivery. If this is not complied with, the tax exemption does not apply.
We are sorry that this post was not useful for you!
Let us improve this post!
Tell us how we can improve this post?